As golfers and Target Score users ourselves, we understand that winning your TS prize (or any prize as amateurs) is very exciting. Naturally, we all wonder HOW and WHEN our hard earned prizes will be delivered to us.
Stage 1: Your Target Score changes to 'Checking' Status.
After you press 'CLAIM', your status will then change to 'checking' followed by an email notification that will automatically be sent to you.
'Claim' signals to us that you have either matched or beaten your Target Score on the day and we now need to call the club to verify your score before organising payment of your prize to either them or one of the retailers chosen.
Remember, you have 24 hours after your game to 'claim' a win. 

Stage 2: Payment.
Once we have verified your score on the day with the pro, we then pay the prize amount directly over the phone to be either allocated to your member account or presented to you as a voucher to pick up when you are in next.
Payment systems does not need to be setup with your home club in order for you to be paid. We just make an eftpos payment over the phone as if we were buying a game.
If you have opted to spend your prize at Drummond or Golfbox, we simply create an online voucher which we then forward to the email address you provided in Paypal.
Stage 3: Your Target Score changes to 'Paid' Status.
Once we have made payment , we mark off on our end that you have been paid which then triggers an automatic email to you. Your winning record then transfers from our Homepage to the Winners page.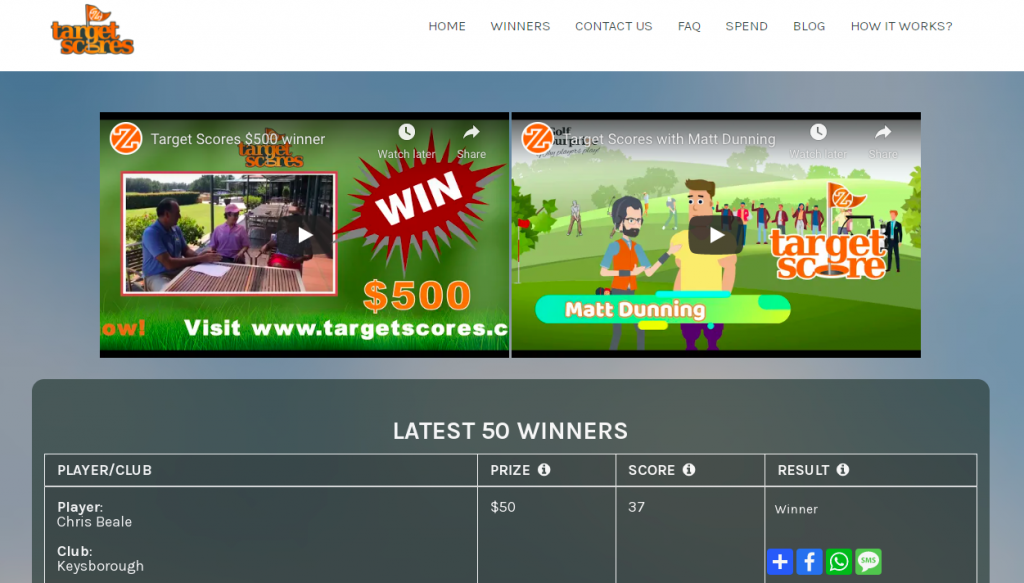 How long does it take to pay my prize?
Payment of prizes take up to one working week to be paid. If your prize is taking longer, feel free to email us at info@golfsurprize.com.
Sometimes it can be difficult getting through to the right person at the club to put through payments. In these cases, there can be delays but we always figure out the quickest and easiest solution for players.
Ultimately, our mission at Target Scores is to offers players a product that complements their club competitions by presenting them with an alternative and more achievable way to win bigger prizes. By winning bigger and spending more at your club, you are also helping and contributing to the success of your local club!